Why I love my job - Quote 14 and 15 of 20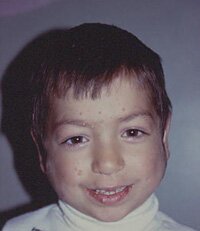 Romanian patient with bilateral parotid enlargement due to HIV.
(
www.bayloraids.org/atlas/
)


"He was so big here."
-Mother of 7 year-old Zinhle. As she made this statement, she held her hands up to her ears like earmuffs. She was referring to the child's parotid glands, which had been enlarged prior to starting ARVs in September 2006. (An example of this is shown in the photo above.) Now, no earmuffs.
"He spoke nothing before. Now he is starting to speak."
-Mother of two year-old Siphiwe, who started ARVs in June 2007. This is the third patient I have had this week alone whose language skills advanced dramatically after ARVs.
(See quotes 12 and 13 for the other two.)
Labels: Quotes